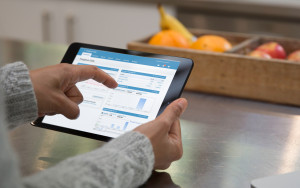 In today's competitive business world, companies must evolve if they are to survive and thrive.
Today, 1 week after attending the annual Xero conference in Denver, Above Studio 1 attained Bronze Certified Partner status from Xero, maker of the world's most beautiful accounting software for small to medium sized businesses.
Edmonton based Above Studio 1 is a hybrid Accounting and Technology firm. As Apple Certified Consultants, Xero certified partners, and Cloud experts, they can help reinvent a company's processes and technology for growth, efficiency, security, and happiness.
"We know business and technology, and we can get you off those PCs and onto gorgeous equipment, beautiful accounting software, and smart cloud integrated systems" said Michael Reinhart, Above Studio 1 founder. "We've seen so many clients suffering pain and bleeding money because of stodgy, decrepit, and restrictive PC based systems. We liberate you from the old world."
Suzanne Morter (CMA), Above Studio 1's lead Consulting Accountant and Certified Xero Advisor will guide clients on the journey to Cloud based accounting.
Xero announced on June 4th, 2015 that they're involved in a strategic partnership with Apple, Vend, and Deputy to provide specialized solutions aimed at revolutionizing the business of retail using Apple's iOS devices.
About Xero
Xero​ (@Xero; ASX/NZX: XRO) i​s beautiful, easy to use online accounting software for small businesses and their advisors. Xero has over 500,000 su​bscribers in more than 180 countries, and seamlessly integrates with over 400 third­ party tools. Xero was ranked No. 1 by Forbes as the W​orld's Most Innovative Growth Company​i​n 2014 and 2015.
About Above Studio 1
Above Studio 1 is Alberta's best consultancy for evolving the Information Technology systems of small to medium sized businesses. Above Studio 1 uses modern techniques and products to help businesses get the most bang for their IT buck, allowing business people focus on the things that make them happy.